(no subject) @ 07:13 pm
ladysilverangel
:
Current Mood:
awake
YAY! Another meeting has gone past, but I've been so bloody lazy that I haven't typed the thoughts up, of course, lol.
This past meeting was held at Caroline's house, who made a
delicious tea consisting of carbonara, quiche and a salad, topped off with a beautiful created ice-cream cake
in honour of
Kitty's birthday
. Thank you to Caroline!
We also dressed up, seeing as the meeting was held on Friday the 13th (Spooky)
Business was brought up concerning the use of the website (if you read this, please, hit leave a comment and leave me a comment *cries*), the quickly-arriving Christmas party, as well as comments on past books.
If we read a book a few weeks back, but you're only reading it now, PLEASE leave a comment and let us know what you think. Or, if your parents or siblings are reading the book, leave us a comment about what they think! It'll be good to know!!
Okay, onto the thoughts from last week's book:
The Road to Jellicoe by Melina Marchetta
Caroline read the book in 2 - 3 days (mostly while watching TV). She really liked how it all related, and the interweaving of the story was really good. She like the present day story a lot, and also the idea of the three territories. Really enjoyed the book, and was actually thinking of getting it for the book club for her book! Her only issue was for the first few chapters, she couldn't tell if Taylor was a guy or a girl.

Miranda played Doom 3 and died.
Kathryn loved it to bits! Read it over 3 days. She loved how every third chapter, something BIG happened... except for the past few chapters, where something big was happening every 3 pages. It was good how kids could identify with the school aspect, and found the war to be really exciting. Really loved the love/hate relationship throughout and cried at the ending.
Roesha really liked the book. She was able to guess what was going to happen, especially with linking the past and the present. Liked the idea of the italics, helping the reader to seperate the past and the present easily.
Samantha (while screaming) LOVED IT! She couldn't put it down and read it all in one night. She cried when the guy got shot. It was an awesome book, bravo to Alyson for picking. Then Sam got a little speechless. She then went on to say that she loved the book and will definately read it again. She then squeaked. Literally. She was utterly dumbstruck by the book, hated it, but also loved it so much!! She lives for the first sentence.
Rhiannon is rather apprehensive about reading this book, mainly because of the author. She hasn't actually read it yet, because her copy went on a rather mysterious adventure in the post, only to be returned to Alyson.
Alyson found that the book really caught her attention. She enjoyed reading it. She found it to be so different, but believeable. She was really pleased that it wasn't a slow book, but it was one you had to take slowly in order to take everything in. Reckon it's going to be the type of book that you'll read again and again and again and still pick up new stuff everytime.
Anthony doesn't have his copy yet.
Belinda (who attended the meeting but no one asked how she felt about the book because she stuffed up the seating order - don't fret people, I'm not whinging, just saying, LOL), found the book to be an interesting read. Personally, she didn't really enjoy the idea of the war, but enjoyed the dynamics of the relationship between Taylor and Jonah. Liked the scene in the jail, and how it was easy to connect who the people in the past were with who they were in the present.
Now, for this fortnight, we're reading (as picked by Caroline)
A Great and Terrible Beauty by Libba Bray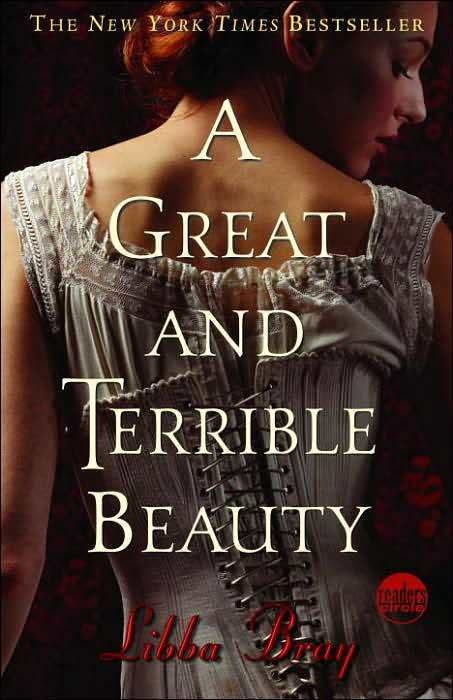 Now the photos!!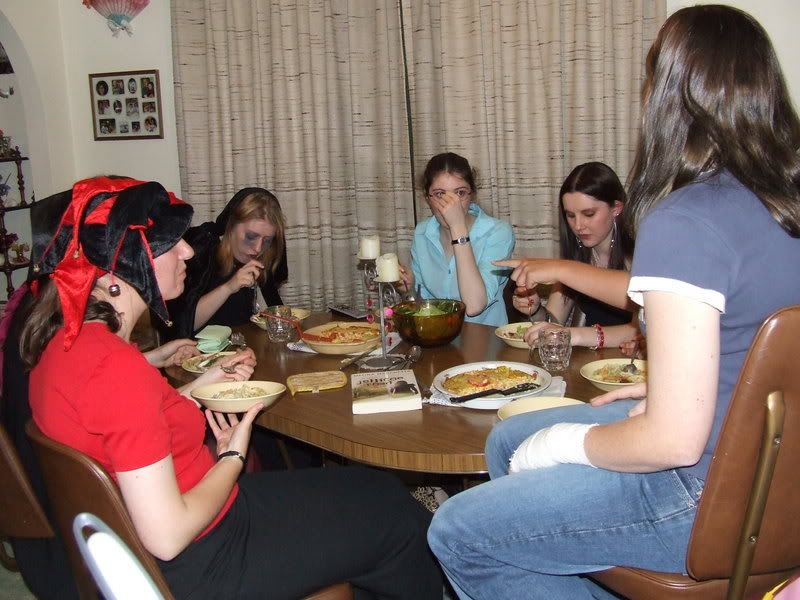 Catching up on the goss in the usual natter around the dinner table.
Tea, which was most delicious!! (I think this was Kitty's plate? Or maybe Miranda's?)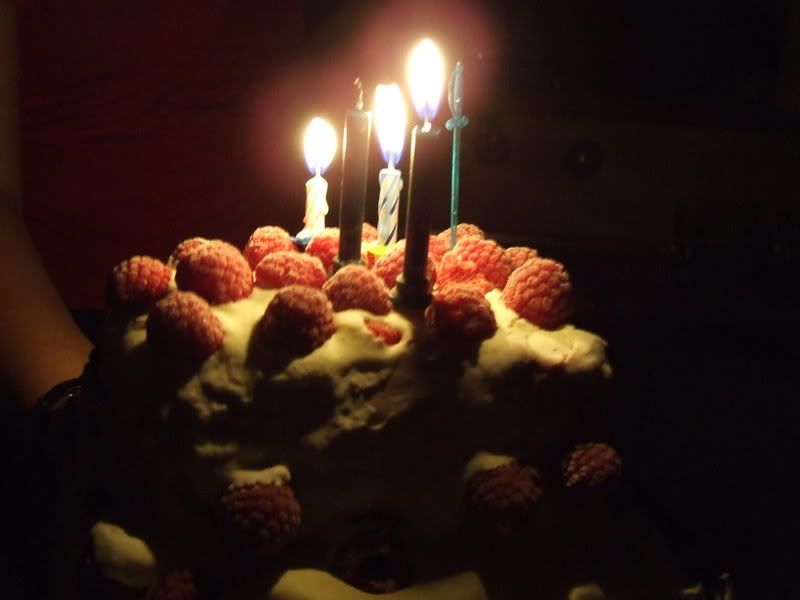 The fabulous cake to celebrate Death's (Kitty) birthday
Yay for glittery sticks that keep us all amused!!
Also, being as it was
Friday the 13th
, as previously stated, we all
dressed up!
Here are our
costumes!!
Here is Roesha, as a Dress-Me-Up-Doll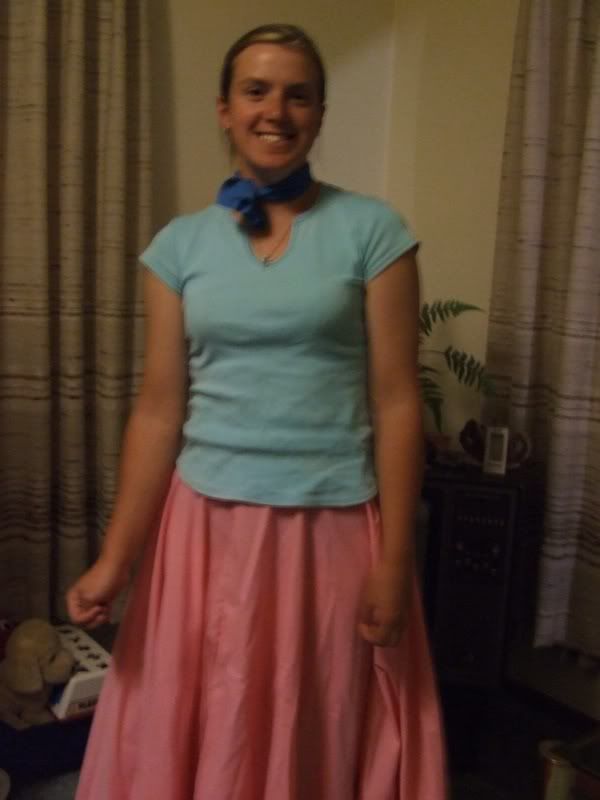 Rhiannon (in a bad photo, I'm sorry) as a Pink Lady, a costume left over from year 10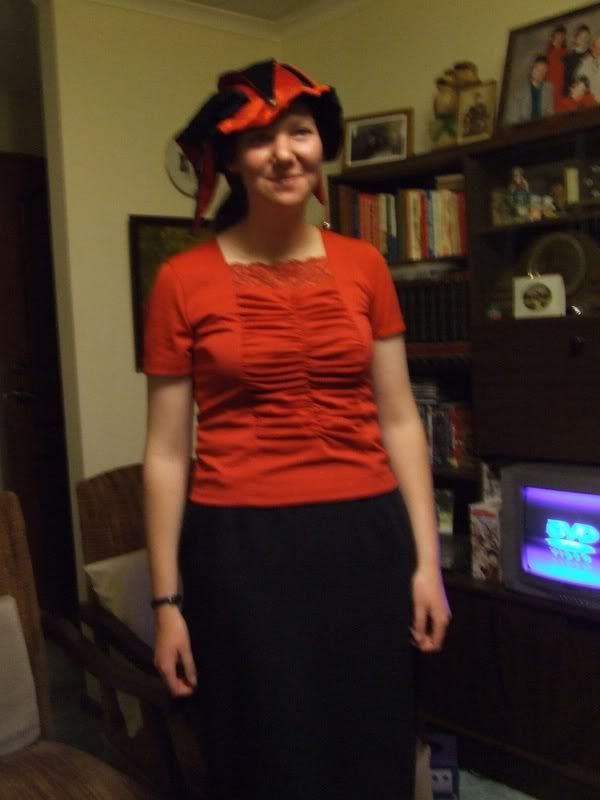 Caroline, in another blurry photo, as a jester!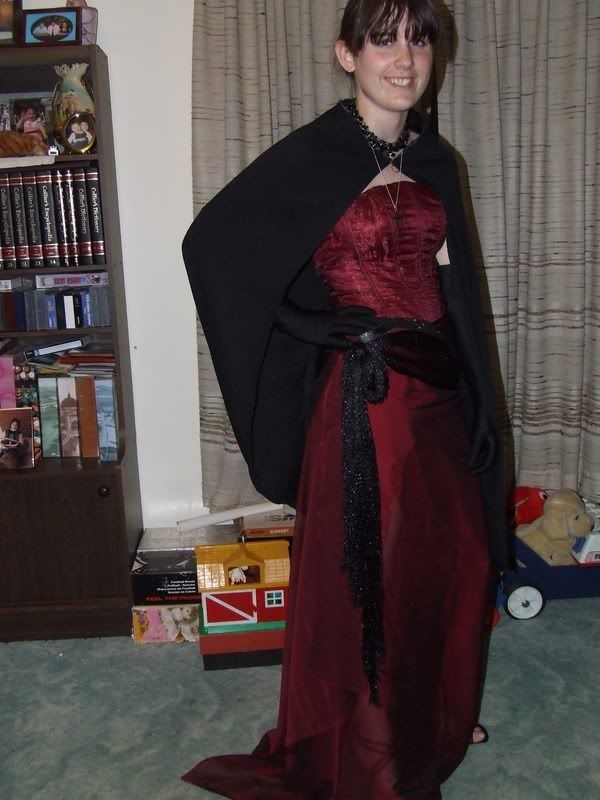 Miranda as.... someone in a cool costume!
Samantha, as a smirking widower.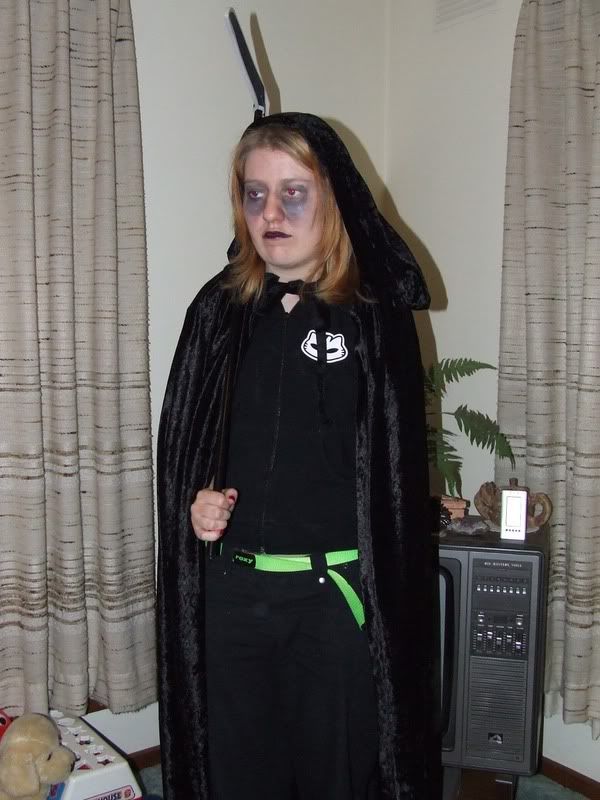 Kitty, as Death, who killed Samantha's late husband.
Since I was taking the photos, I of course managed to avoid being in fron the camera, so no photos of me! *grin* I did however, dress up, as a Slytherin student. I came straight from work, lol, so I should have just gone as a Safeway chicky.
Next meeting will be held on Friday the 27th, and will be hosted by Samantha.... but at Belinda's house.